Do you love granola and strawberries? Be creative and try this easy, homemade strawberry granola recipe! A delicious, ready made (because you made it!) on-the-go snack you can take with you anywhere and everywhere, featuring our freeze dried strawberries. If you like your granola and strawberries, you're sure to love this, so try it today!
Strawberries and Granola

Print recipe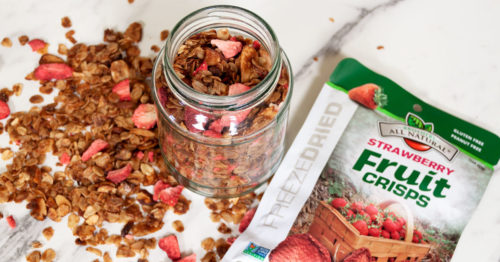 | | |
| --- | --- |
| Prep time | 15 minutes |
| Cook time | 30 minutes |
| Total time | 45 minutes |
| Meal type | Breakfast, Dessert, Snack |
| Misc | Child Friendly |
Ingredients
3 cups old fashioned rolled oats
3/4 cups sliced almonds
1/4 cup dark brown sugar or coconut sugar
1/8 teaspoon ground cinnamon
1/4 teaspoon sea salt (finely ground)
2 teaspoons vanilla extract
1/4 cup avocado oil or melted coconut oil
1/4 cup pure maple syrup
1-2 cups freeze dried strawberries
Directions
Step 1
Preheat oven to 350 degrees Fahrenheit. Line a baking sheet with parchment paper. Baking sheets with taller sides work best to prevent spilling.
Step 2
In a large bowl, mix the oats, almonds, brown sugar, cinnamon and salt. Then, add the maple syrup, vanilla and oil of your choice. Stir until the oats are evenly coated.
Step 3
Spread the oats onto the baking sheet in an even layer. Bake for 30 minutes giving the oats a quick stir at 15 minutes.
Step 4
Allow the oats to cool completely and add the freeze dried strawberries.
Step 5
Store in an airtight glass jar.
---
Products used in this recipe: Freeze Dried Strawberries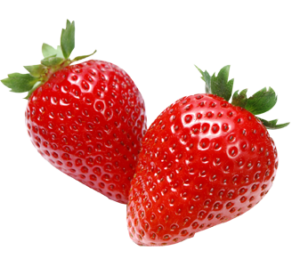 Find more strawberry recipes HERE