Strawberry Melting Moments
These soft, buttery strawberry melting moments cookie sandwiches melt in your mouth making them irresistible. They're flavored with freeze dried strawberries to give them a light strawberry flavor with a hint of lemon. This recipe is a must-try!
Strawberry Melting Moments

Print recipe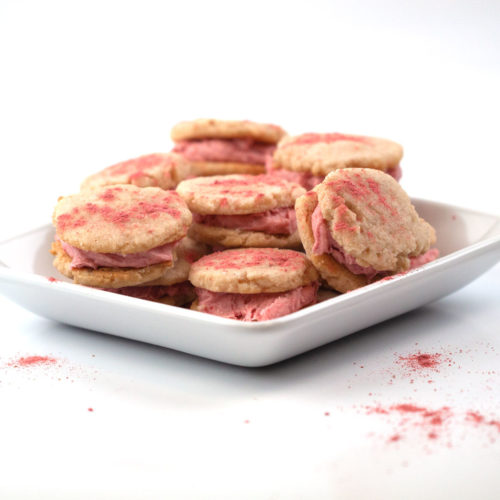 | | |
| --- | --- |
| Prep time | 30 minutes |
| Cook time | 10 minutes |
| Total time | 40 minutes |
| Meal type | Dessert |
| Misc | Child Friendly |
Ingredients
Cookie Dough
1 cup sticks of unsalted butter (2 sticks)
2/3 cups sugar
1 egg yolk
2 tablespoons freeze dried strawberries (powdered by grinding in blender)
2 1/4 cups flour
1 teaspoon lemon juice
Filling
1/2 cup butter (room temperature)
4 cups powdered sugar
1oz freeze dried strawberries (powdered by grinding in blender)
5 tablespoons milk
1 teaspoon vanilla
1/4 tablespoon strawberry extract
Directions
Cookie Dough
Step 1
Preheat oven to 375 degrees Fahrenheit and line baking sheet with parchment paper.
Step 2
Cream together the butter and sugar in a stand mixer.
Step 3
Next beat in the egg yolk, lemon juice, freeze dried strawberry powder and flour.
Step 4
Using a 1" cookie scoop, portion the dough onto the parchment paper. Leave about 2 inches in between each cookie.
Step 5
Bake 8-10 minutes or until the edges start to brown. Remove from the oven and let cool for 5 minutes. Then, transfer to a wire rack to cool completely.
Filling
Step 6
While the cookies are cooling it's time to make the filling. In a medium bowl, cream together the 1/2 cup of butter and powdered sugar until smooth Then, add the freeze dried strawberries, strawberry extract and milk. Mix well.
Step 7
Pair up the cooled cookies and spread the filling using a knife on one cookie from each each pair. Place the other cookie on top. Sprinkle extra freeze dried strawberry powder on the cookies for decoration.
Try our other Fruit Crisp recipes HERE