This sweet and fruity Strawberry Puppy Chow is the perfect treat for Valentine's Day, parties, or snacking any time!
Chex cereal is coated in chocolate, freeze-dried strawberry powder, and sugar for a unique and delicious take on classic puppy chow. This treat is crunchy, sweet, and exploding with real strawberry flavor. Plus, it only takes 15 minutes to make!
Strawberry Puppy Chow

Print recipe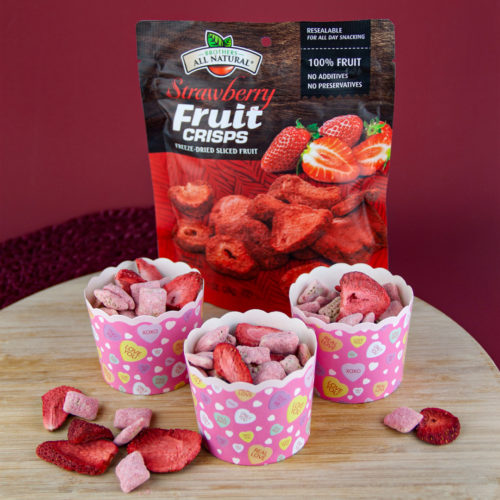 | | |
| --- | --- |
| Serves | 8 |
| Prep time | 5 minutes |
| Cook time | 20 minutes |
| Total time | 25 minutes |
Ingredients
4 cups Chex cereal
1 cup white chocolate chips
1 oz. bag Brothers All Natural Strawberry Fruit Crisps (crushed or blended into powder)
1/3 cup confectioner's sugar
Directions
Step 1
In a large bowl, add cereal. Set aside.
Step 2
In a small bowl, microwave white chocolate chips at 30 second increments until chips are melted and smooth. Pour chocolate over cereal and stir carefully to fully cover but not break the cereal. Pour cereal mixture into a large gallon size plastic bag.
Step 3
Pour ground strawberry powder and confectioner's sugar over cereal and seal bag. Shake to evenly coat cereal.
Step 4
Line a baking sheet with parchment paper and pour cereal mixture into a single layer. Refrigerate for 10-15 minutes. Enjoy with more strawberry fruit crisps!