Strawberry Rice Crispy Treats
Make your rice crispy treats treats more exciting by adding freeze dried strawberries to them for a delicious, marshmallow strawberry rice crispy treat!
Strawberry Rice Crispy Treats

Print recipe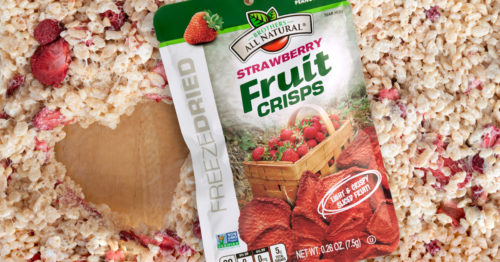 Ingredients
6 tablespoons Butter
6 cups Mini Marshmallows
6 cups Crispy Cereal
1 - 1 1/2 cup Freeze Dried Strawberries (slightly crushed)
Directions
Step 1
Spray a 9" x 11" inch pan with non-stick spray. Melt butter on stove top over medium heat. Stir to prevent burning.
Step 2
Once the butter has melted, add in the mini marshmallows and stir until they're completely melted.
Step 3

Remove pan from heat and immediately stir in crispy cereal until completely coated. Then, stir in the freeze dried strawberries.

Step 4

Pour into prepared 9" x 11" pan. Press extra freeze dried strawberries on top for decoration (optional). Allow to cool completely and cut into squares (or use cookie cutters to make fun shapes)!
Check out more strawberry recipes you might like HERE.