Sweet Corn Salad
A simple variation of a corn salad that highlights the naturally sweet corn flavor. Harvester Farms Freeze-Dried Corn is delicious on its own, but the addition of the cilantro and lime in this recipe compliments the sweetness of the corn.  The re-hydrated corn has an ideal texture and is bursting with flavor.
Sweet Corn Salad

Print recipe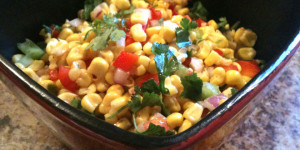 | | |
| --- | --- |
| Serves | 12 |
| Prep time | 15 minutes |
| Dietary | Gluten Free |
| Meal type | Appetizer, Salad, Side Dish, Snack |
| Misc | Pre-preparable, Serve Cold |
| Occasion | Barbecue, Casual Party |
| Website | Brothers-All-Natural Blog |
This vibrant, refreshing corn salad is perfect for a BBQ or potluck on a hot day. The sweetness of the corn is complimented with hints of cilantro and lime. A light, pleasing side dish to accompany any meal.
Ingredients
4 cups Harverster Farms Freeze-Dried Corn
1 cup Red Onion, chopped
1 cup Red Pepper, chopped
1 cup Green Pepper, chopped
1 cup Tomatoes, diced
2 cloves Garlic, minced
1/2 bunch Cilantro, chopped
1 Medium Lime
drizzle Olive Oil
pinch salt and pepper
Directions
Step 1

Open the can of Harvester Farms Sweet Corn. Be sure to leave the oxygen absorber in the can; it prevents the corn from moisture.

Step 2

Rinse the dried corn in a colander for 30 seconds; the corn will rehydrate. Let the corn drain and place into a large bowl.

Step 3

Chop the onion, peppers, tomatoes, and cilantro. Mince the garlic. Add these ingredients to a bowl then squeeze the juice of one full lime onto the chopped ingredients. Drizzle lightly with olive oil and then add a pinch of salt and pepper.

Step 4

Add the mixture of chopped ingredients to the bowl of corn and stir until blended. Serve immediately or refrigerate.