Satisfy Your Crunch Craving.
Tired of eating the same old peanut butter and jelly sandwich for lunch? Well, we hear you. Fruit crisps are a quick way to add nutrition, flavor, and crunch to your peanut butter sandwich. Add the classic banana or try something new like Apple, Peach, or Strawberry.
When you're tired in the morning packing a yummy and healthy lunch for work or school is the last thing on your mind. It's easy when your healthy treat doesn't need to be prepared or require refrigeration. You can add the fruit crisps to you sandwich at work too. Below is a PB and J with banana fruit crisps stuffed inside.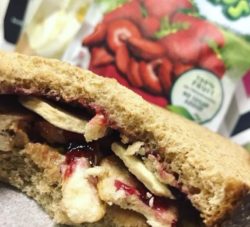 If you want to make a sweeter lunch, try Nutella with banana or strawberries. Of course this method works great for toast as well. We hope this post helps liven up your lunches and sparks further creativity in your meals.