We truly appreciate reading feedback and comments from our Brothers All Natural community, and love to hear how you enjoy our allergen-friendly fruit crisps! Below are testimonials of our loyal customers: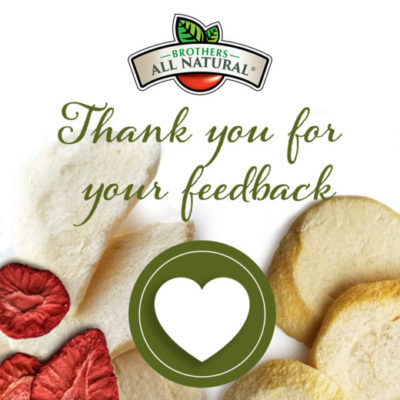 My daughter takes these as snacks to preschool and we do not have to worry about allergen restrictions of the class room!
Thank you so much for a great product with one ingredient!! My son has many food allergies like corn, soy, eggs, all nuts, chocolate and carrots which makes it really hard to find things for on the go. We now have to carry him food around all the time no matter where we go. So thanks for something we can grab and go!! We are ordering the Mickey Mouse apple cinnamon and are so excited for the good food and cute characters!!
–Ashley West Babson, Facebook
My son absolutely loves these! Convenient on the go healthy snack. The strawberry ones are our favorite!
I recently found these while out food shopping and thought I'd give them a try. I must say, I am ADDICTED!! I love that there's no artificial anything in them. Awesome product!!
–Liz Haggerty, Facebook
Thank you Brothers All Natural for the fruit crisps! I love the variety of flavors (strawberry is my favorite!), and how each bag is packed with nutritious and allergy-friendly products. The new chocolate-covered strawberry and banana crisps are excellent as well!
–Ashley Ragan, Facebook
Seriously never found anything my child eats more! His baby sitter steals them and his father makes me buy extra for his lunches. I go through at least 2 boxes a week! We love them so much.
The freeze dried fruits are amazing. It's the only fruit our toddler will eat. So happy to have this product available.
–Lindsay Ware, Facebook