Brothers-All-Natural Freeze-Dried Fruit Crisps receive Non-GMO Project Verification seal of approval
To date, all freeze-dried Fruit Crisps and Fruit Clusters (Chocolate Covered Clusters are the exception) have earned recognition for being in compliance with the Non-GMO Project Standards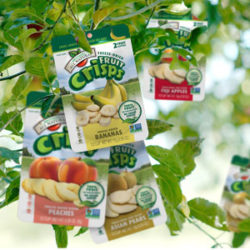 The Non-GMO Project is a non-profit organization committed to preserving and building sources of non-GMO products, educating consumers, and providing verified non-GMO choices. GMOs, or "genetically modified organisms," are plants or animals that have been genetically engineered with DNA from bacteria, viruses, and other animals and plants.
The Non-GMO Project offers North America's only independent verification for products made according to rigorous best practices for GMO avoidance. Our shared belief is that everyone deserves an informed choice about whether or not to consume genetically modified organisms.
In addition to being non GMO, Brothers-All-Natural freeze-dried Fruit Crisps and Fruit Clusters™ are gluten free, soy free, peanut/tree nut free, vegan, and OU Kosher certified.