Do you know what the teal pumpkin stands for?
The #TealPumpkinProject is about raising awareness for food allergies and including everyone during the Halloween time. Teal is used because it's the color that represents food allergies.
Why is this important? Well, 1 in 13 children have an allergy to food – that's a lot! We all know trick-or-treating is an exciting time for kids but those with food allergies miss out. Why not do what we can to include all?
How do you participate?
You can get started by stocking up on non-food items for trick-or-treaters (this doesn't mean you can't have another bowl with regular candy). Think about items like:
Halloween rings
Stickers
Cards
Glow sticks
Bubbles
FARE (Food Allergy Research & Education) has an awesome info-graphic with more ideas here. You can also purchase allergy-friendly candy/snacks for Halloween. For example, Fruit Crisps are free of the top 8 allergens. They're also vegan, kosher and non-GMO! The Disney packaging makes it fun for Halloween! Check out our Halloween packs here.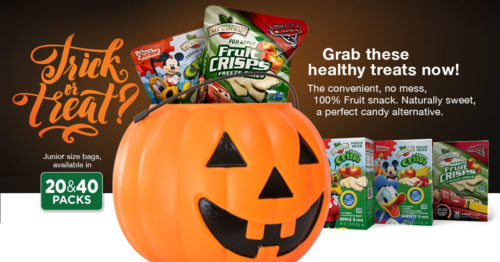 How to spread the word?
Once you have your allergy-friendly goodies ready make sure to keep away from anything that's not allergy-friendly. Put them in a separate bowl on Halloween night. Then, it's time to spread the word that you will be an allergy-friendly home on Halloween! You can do this by:
Placing a teal pumpkin in a visible spot outside your home.
Downloading a Teal Pumpkin Project® flyer from FARE (linked here).
Signing-up to be on the Teal Pumpkin Project® map (linked here).
Announcing it on your neighborhood Facebook page or any other way you communicate with your neighbors.
The more people who know about this project the greater the chance more people will participate and make Halloween safe for all! Please share this article or spread the word in your own way. Talk to other parents, family members or your child's school. Have a safe and happy Halloween!
If you want to learn more about the Teal Pumpkin Project® – click here.
If you want to learn more about food allergies in general – click here.