Fruit Crisps Ice Cream
Creative Ice Cream Flavors: Fruit Edition
We couldn't resist participating in Creative Ice Cream Flavors Day so we put together a list of interesting flavor combinations to tingle your taste buds. Each combination is inspired by a different flavored fruit crisp since that's what we're all about! Check out our Fruit Crisps ice cream delights!

Banana ice cream with chocolate covered bacon and walnuts
---

Strawberry ice cream with candied tomato chunks
---

Creamy pear ice cream with crushed peppercorns
---

Basil ice cream with chunks of peach and a honey swirl
---

Peanut butter ice cream with sweetened apple bits and a hint of cinnamon
---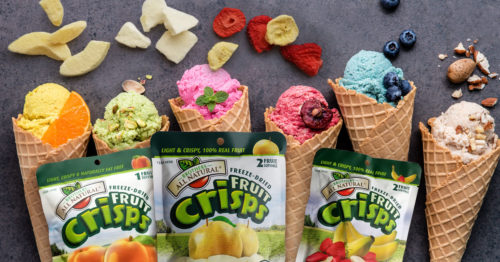 If these flavors are too adventurous for you, try crumbling fruit crisps on top of your ice cream! We recommend vanilla ice cream with caramel sauce and Fuji Apple Crisps. Yum!
---
Check out these ice cream recipes using Fruit Crisps:
-Gluten Free, Dairy Free Strawberry Ice Cream
-Chocolate Banana Dairy Free Ice Cream 
#CreativeIcecreamFlavorsDay #BrothersAllNatural #FreezeDriedFruit